from pridefighting.us
An era of pageantry and full-on world-class MMA came to an end when PRIDE's parent company lost their Fuji Network broadcast amid scandalous allegations of yakuza involvement and the subsequent sale of the promotion to Zuffa. DREAM was born from the ashes, Sengoku rose in prominence, and some of the top talent returned overseas to fight in the cage. But nothing yet has filled that void in the PRIDE fans' hearts.
from mmapast.com
Even at its inception, the UFC knew the importance of Japan's fight culture and held four events there - 15.5, 23, 25 and 29. Right after that last event, parent company SEG's financial difficulties almost sidelined the promotion and Zuffa purchased it in early 2001. For the next 6 years, they focused on their domestic market. In 2007, the payoff came, with results of stunning PPV buys and regular gate attendance of over 10,000 people. Then in 2009 they began an overseas push into the European market. Australia and Abu Dhabi were added in 2010, and back to Brazil in 2011. Rumors of a show in China circulated after the UFC opened an office in Beijing, but nothing materialized. And now, a staggering 12 years later, the UFC will once more hold an event Tokyo, Japan on February 26, 2012.
from dreamofficial.com
The hopeful resurgence of world-captivating Japanese MMA featuring soccer kicks, stomps, spotlights and special effects is being fueled by the new FeiLDS/IGF co-promotion takeover of the DREAM New Years Eve event,
"Genki Desu Ka"
. DREAM's recently announced partnership with the ONE FC network will hopefully finally allow the DREAM talent to freely fight and get paid in networked promotions, which will expand the respect of the high level of Japanese fighters further. Overseas interest in all Asian MMA is growing, with countries like the Philippines getting high-profile UFC fighters on tour and securing a potential first foreign TUF broadcast, Hong Kong's
Legend FC
securing wide domestic and North American broadcasts, and
ONE FC
live streaming its inaugural event on Sherdog.
MMA in Asia as a whole is seeing an explosion unlike anywhere before in the world. Indonesia has produced professional MMA fighters like
Yohan Mulia Legowo
and
Fransino Tirta
. Malaysia now has a regular MMA event called the Malaysian Fighting Championship sponsored by
Muayfit
. Thailand has the new professional MMA promotion
DARE
. The Philippines
URCC
is making headlines as its champions are beginning to fight in other Asian promotions and consistently succeed. Even China has its first government-sanctioned promotion,
RUFF
. Looking further east, Tigers Gym in India is beginning to field fighters, and PAKMMA his been established in Pakistan.
This is all within the space of TWO SHORT YEARS. No wonder the UFC is looking East.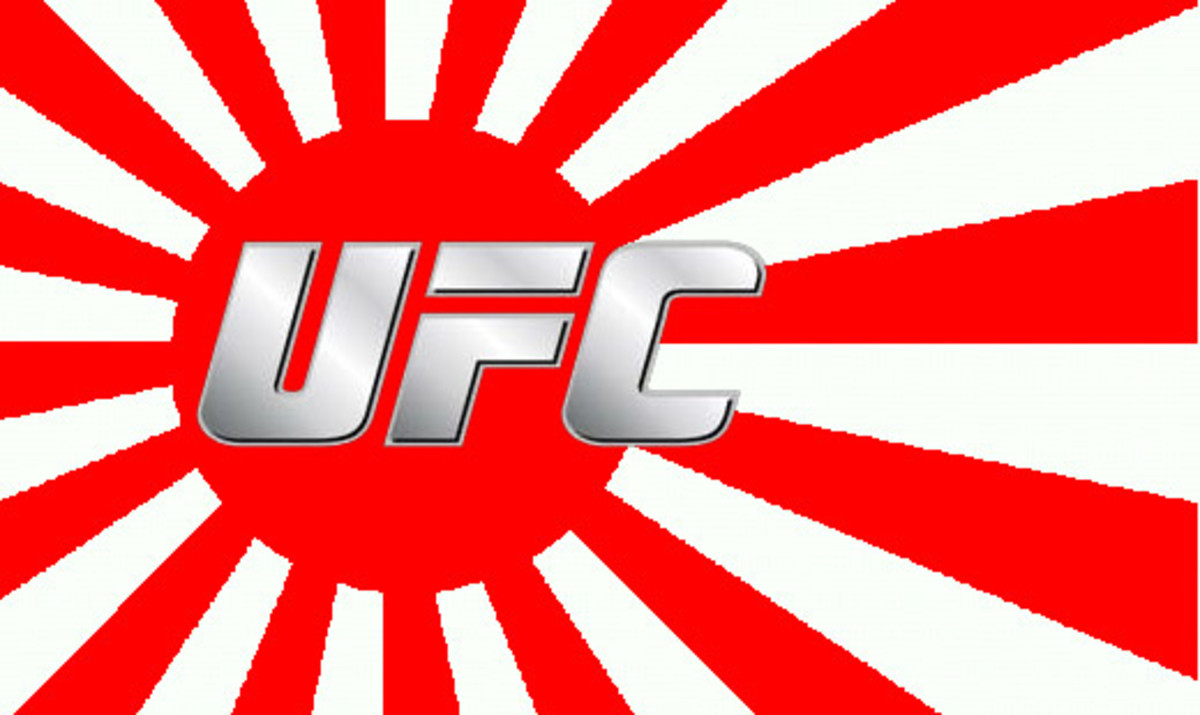 from mmaweekly.com
When the UFC announced its fight card for 144 Japan in late November, it was strategically timed to correspond with DREAM's 'Genki Desu Ka' card release. There is already controversial discussion regarding the event from both Japanese MMA afficionados and UFC detractors. The topics being handled are about the quality of the matches, if the show will be a financial success or a bought-and-sold event, and whether or not Japanese will actually like the cage-oriented production.
While Japanese do have an affinity for American fads and fashions which might help the UFC event to succeed, they also have a profound understanding of combat sports. This is attested to by the longevity of widespread competition in the Shooto and Pancrase organizations, not to mention the current level of fighters in DREAM. So the matches will be what makes or breaks the Japanese audience's reception of the UFC. Putting the other more controversial issues aside, the fight card is the most straightforward topic to address.
The Undercard
Takeya Mizugaki
hasn't fought on his home turf in 3 years, and he's excited to be back. The Shooto and GCM veteran's win record caught the attention of WEC/UFC, but since then he's been on a seesaw. Whether or not the home crowd will remember him from his precious successes remains to be seen. Coming from a TKO of strikes against Cole Escovedo he'll be facing the diminuitive Chris "Kamikaze" Cariaso who is on a similar UFC seesaw. Kamikaze is a technical striker as well, and since both of these guys are hungry to climb up a heating bantamweight division, this should be an active, fierce bout.
Takanori Gomi
, you are reading the wrong site. The Fireball Kid got his nursery schooling in Shooto and his master's degree in PRIDE. Many feel he came in too late to the UFC and his 1-3 record suggests it. But back in Japan, Gomi gets a chance to prove he's still the man - a la Wandy and Fedor's recent resurgences - against another product of Asia-Pac MMA. Aussie
George Sotiropoulos
has a fantastic record in the UFC, but he's coming off two losses so he'll need a lot of samurai spirit when he meets the legend that is Gomi on his own turf. The fact that Gomi's fighting on the undercard says a lot about what the UFC thinks of him. Or maybe they're banking on his local appeal because the undercard might be held post-PPV broadcast. Either way, someone's on the bad end of the stick on this one if they keep down the same road - Gomi gets submitted or George gets knocked out - one of them might be leaving the UFC for good. Will this make for an epic battle or a desperate brawl?
Kid Yamamoto
lost to Darren Uenoyama and
Vaughn Lee
is coming off a loss to Cariaso. Kid had huge wins against stellar opponents in K-1 during his 8-year career before joining the UFC. And like Gomi his entrance late in that career may play a part in his losing record. His confrontation with UFC honeymooner
Vaughn Lee
only will serve to show which fighter doesn't have what it takes (anymore) and as such is kind of a depressing match up.
Riki Fukuda
amassed a good record of solid wins over international and Japanese opponents: 17-4. He's has only fought once early in 2011 and once in the UFC (due to a car accident following it), and that single bout was a loss. Fukuda's next opponent is
Steve Cantwell
who, after a layoff of his own, added another two losses to make his record 1-4 in the UFC. With their records in black and white, so is this fight.
Leonard Garcia
has the unfortunate distinction as being "that guy who got The Twister from The Zombie". Since joining the UFC/WEC promotions, he's put on exciting fights - most notably two 2-chapter wars with Nam Phan and Chan Sung Jung - and both contributed to his overall 50% win rate. He's on a 2-fight losing streak against Asians, so he'd better not hope this isn't some bad fung shui when he meets
Zhang Tiequan
inside the cage. However, Zhang hasn't fought nearly the caliber of fighters Garcia has in his career, and coming off a loss himself, it's time he get out some serious kung fu. If Zhang can stand and bang with the dynamic Garcia, he will prove he's deserved his contract.
Yushin Okami
- a 5-year winning UFC career and a recent middleweight title contender - is demoted to the undercard?
Tim Boetsch
has had a winning career and a better than average record in the UFC. Again, why is this on the undercard for a PPV event? Okami hasn't fought in Japan since 2006, so it's doubtful if he'd be a local draw, but with such talent in the ring, why wouldn't this be something for overseas viewers?
Hatsu Hioki
, a Shooto and Sengoku mainstay, beat Jeff Curran in his only visit to the PRIDE ring, is considered a top-3 featherweight in the world, and beat some of the biggest Japanese names in his divisions.
Bart Palaszewski
, form Team Curran, has amassed a stunning record and is considered a top ten featherweight. Hioki will draw the local crowd, throw in Bart seeking revenge on his teacher's loss, and we have the makings of an epic samurai battle. On the undercard.
Three potentially exciting matches. Three Japanese mainstays. Three possible UFC drops. Not all of them on the same bout. Do good or bad things come in threes? As the UFC updates the the time and the order of its event, we'll also find out if we have to camp overnight in Saitama Super Arena to catch a 7 am undercard in $1,300USD ringside seats.
Here's look at the Main card - absent of Japanese save Sexiyama - of Korean blood, oh and there's another Asian: Hendo - of half Korean bood:
Heavyweights:
Mark Hunt
vs.
Cheick Kongo
Light Heavyweights:
Rampage Jackson
vs.
Ryan Bader
Lightweights:
Anthony Pettis
vs.
Joe Lauzon
Welterweights:
Yoshihiro Akiyama
vs.
Jake Shields
UFC Lightweight title match:
Frankie Edgar
vs.
Ben Henderson
Other PRIDE fighters we could have seen: Nog, Rua, Fedor, WANDERLEI. Oh well. It's not PRIDE.