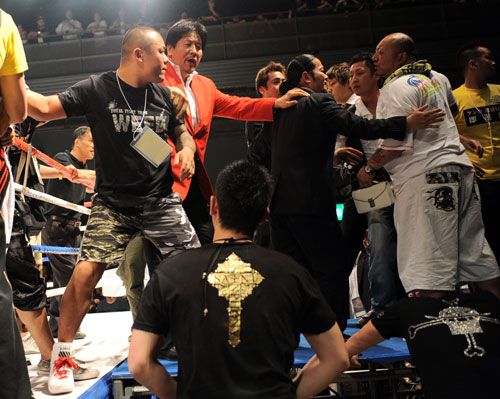 Outsiders at Outsider circa 2010
The month of MMAy is all about BJJ this year. Although the MMA scene is sparse this month, it started off with a bang via two of the craziest promotions in Asia. Super Fight League - the promotion gaining more and more notoriety for its Bollywood production and Baroni's color commentating - saw its sophomore outing in India. And today was another RINGS Outsiders event in Japan, a promotion started by Akira Maeda to give society's "outsiders" a ring to duke it out in, rather than the streets. More than the listed bouts can occur between opposing camps all tattooed and smoking ringside.
Aside from the pro events, the amateur MMA scene is starting to kick off across Asia in a big way.
MMA Academy
in will hold their second amateur competition on May 19th in San Perdro, Philippines.
Taiwan's Shen Wu
will hold their second as well at the end of the month on the 26th.
Impakt Singapore
will also hold an in-house competition on the same day. Then it's back to the Philippines as
One Mindanao
announces amateur tryouts for the Fury Fight League on May 27th.
The lull in professional events means that more of Asia's Brazilian Jiu Jitsu-based MMA fighters can be seen participating in the very active BJJ competition month of May. Starting off the calendar was the Copa de Hong Kong at the very beginning of the month. Today saw the second day of competition at the Pan Asian tournament in the Philippines. Finally, the next installment of the China Open will take place in Shanghai on May 19th. BJJ is definitely growing around Asia! And of course, there was the live streamed
COPA DE HONG KONG
The Copa de Hong Kong took place on the first day of May. About 150 competitors entered from all across Asia - China, Taiwan, Singapore, Japan, the Philippines. Vincent Sit of
POSS Performance Apparel
(check out Vaughn Anderson's last fight for a look at their compression spats) took some great pictures of the action and posted in a
Facebook album here
. Our own album can be found on
Facebook
as well. Adrian Wong of
JADED MMA
traded his own MMA shorts for his first competition in the kimono.
Terrence Chan
, pro poker player and now pro MMA fighter on
Legend FC
, also donned a gi.
And Big Dean Thompson dons one of his own
STORM
kimonos to battle it out in the purple division.
Rodrigo Caporal
ran the black belt divisions (again) in preparation for the Pan Asians, and probably as a warm up for his next MMA fight in
RUFF
. For the full results, see
this link on BJJ Asia
.
2012 PAN ASIANS
Jerry Legaspi
,
URCC
and
PXC
veteran, sported three gold medals for his time on the mats.
Black belt
Leandro Issa
has a fight camp to consider for his battle against fellow black belt Masakazu Imanari in Next month's
ONE FC
, but he still took time out to coach and support his
Evolve MMA
team.
When his opponent pulled out,
Ray Elbe
saw his first match against Caporal. As
Ray stated on his blog
following the match:
"Winning the first round bye I was "awarded" a silver medal as a contestant prize. Would have been nice to have had a few matches before Caporal, however the real reward here is the experienced gained from competing and the training I put towards preparing for the event…I'm better tomorrow because of today."
As the results get posted, check back here for updates.
WORLD JIU JITSU OPEN
One of the Superfights was between to guys who had just run the rounds giving seminars throughout Asia, so it was a treat to see them meet each other in this match. Jeff Glover versus Caio Terra!
And everybody already knows Nick Diaz was a no-show against Braulio Estima. Here's what Braulio had to say on
his Twitter account here
:
"Unfortunately the so expected super fight Estima vs Diaz didn't happened. I'm very sad as I did everything possible for it to happen. I weighed in at 180lbs this morning at 10 am as agreed and asked to see nicks weighing too but I was informed by Cesar his Coach that he was 180lbs in the previous night and that he ate and is over 180lbs even though I just let it go an still showed up to fight. What pisses me off the most is that he was telling he was going to give his purse to charity for the childrens hospital and than don't show up. What kind of person is that. Shame. Ps. I'm sorry for all the ones who stayed up to watch this fight but I'm sure the prelims fights was amazing. Thank u all for the support aways."